Visit The Fitting Room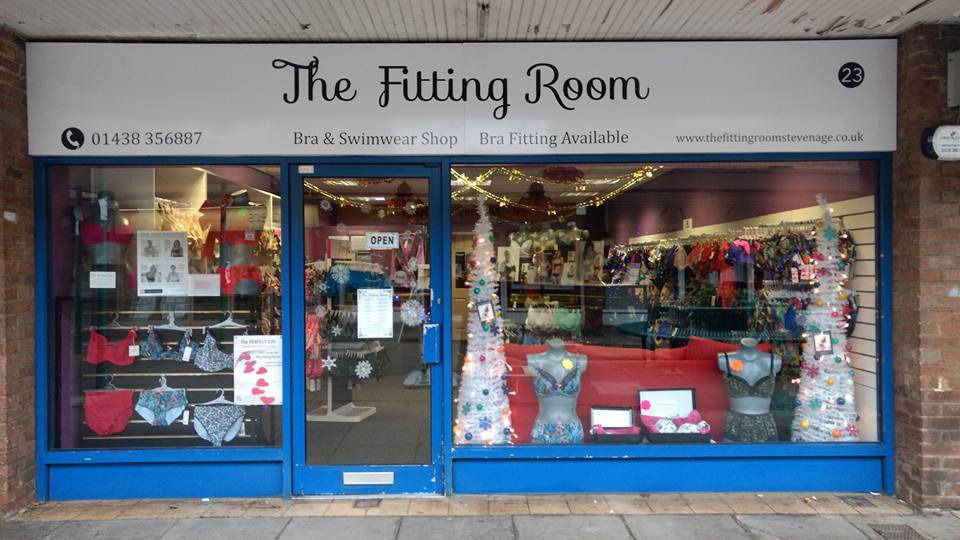 You can visit us at the following address:
Contact Number: 01438 356887
No appointment is required for a fitting.
Regular opening hours are (please note that last fitting will be half hour before closing):
Tuesday - 9.30am - 2.30pm
Wednesday: 9.30am - 5.00pm
Thursday: 9.30am - 5.00pm
Sunday & Bank Holidays - Closed
About The Fitting Room
I opened my store in May 2015 after spending 12 years as a fitter based at home. I aim to cater for everyone, no matter what size you need, and if I do not have something in I am happy to order it in for you.
No appointment is required to have a fitting, simply turn up on the day you want it done. We stock many bras in all styles and sizes, if there is nothing you like we can order in for you. There is a map to our shop on the right of this page.
Our store is completely family and wheelchair friendly. Children are always welcome and we have ample toys to keep them occupied while you have a fitting and my staff either have children themselves or work with children so are more than happy to get onto the floor and keep them occupied if need be.
If you have already been to visit us and know what you want you can also buy from the ranges available on our website, you can also order by Click & Collect and we will contact you to let you know when your order is ready for collection. While we cannot keep everything in stock we endeavour to be able to offer you as many ranges as possible on our site but this might mean there is a short delay for these. Our shop is located in Stevenage Town Centre and is a 3 minute walk from Asda and is just a few minutes from the A1M.
No appointment is required for a fitting, simply drop in and see us during our normal opening hours. Please note that the last fitting will be 30 minutes before closing time.
Times are subject to occasional change but this is always noted on our Facebook page so please check before making a special or long journey.
All other hours and evening parties can be arranged by personal appointment, simply contact us by phone, email or on our Facebook page.
What can The Fitting Room offer you?
You will be able to visit for a fitting, to try stock before you buy or simply to ask for advice. I will always have a good selection of bras, underwear, bra sized swimwear and sports bras in stock, anything I do not have I can get into order for you. I am an experienced, Eveden trained fitter and I have been fitting since 2003, my staff have been trained by myself using the same practices. We do not add inches onto your band size so this ensures your band is of the correct fit.
I only stock the UK's top recognised brands in my shop, most of which have won awards for their fit, and I ensure the standard of fit and materials is good either by testing the bra myself or by having one of my testers try the bra. Either way you are guaranteed of a good fit and of quality, no matter what bra you choose. I specialise in finding hard to find bra sizes and I stock bras in band sizes 28"-56" and in cup sizes AA-K. Prices start from as little as £7 for bras and swimwear.
Gift Vouchers & Wish Lists
Why not come and fill in a wish list and leave yours details with us. We will contact the person of your choice at special occasions and birthdays to let them know what you would like.
Why is it important to have a proper bra fitting?
Wearing the correct fitting bra is essential and can make a complete difference to how you look and feel. Badly fitted bras make your breasts sag and stretch the tissue that holds and maintains the shape of your breasts. This sagging causes damage to the Coopers Ligaments - these ligaments hold your breasts upright and damage to them is irreversible. The coopers ligaments are like a network of rubber bands and, like rubber bands, once they are stretched worn out they cannot be repaired or replaced. The picture shows these ligaments as little red lines.
The Importance of a properly fitted sports bra

I don't need to bother about wearing a special bra, do I?

I see a lot of women who do not wear a proper sports bra or who wear a 'normal bra' for running and other physical activities. These bras are causing irreversible damage to the breast tissue. It has been scientifically proven that breasts do not just move up and down when you run or take park in physical activities but move from side to side, round and round as well as up and down. All repetitive movement will stretch the ligaments beyond repair so a bra that supports the breast should be an essential part of your sports kit. Even women with small busts should wear a sports bra but many think they do not need one - all breasts move. The sports bras I sell are designed to support and independently encapsulate each breast, rather than give compression based support, so no matter what activity you are participating in, give your boobs the support they need by wearing a proper, supportive sports bra.
Teen fittings: I have a small boutique and like to make everyone feel welcome and comfortable when having a fitting. Having a daughter myself I understand that it is never too early to take your daughter to a bra fitting but early experiences of these early fittings are important and girls need to be reassured that there is nothing to be worried about and that it is as easy as buying a new pair of shoes. The earlier you help them understand the importance of a well fitting bra, the easier it will be for her to tell you in the future that she needs a new bra and for what to look for when she starts growing out of it. Any questions she has I will be happy to answer them. Why not book a fitting for yourself and your daughter today. Please note that all under 16's must be accompanied by a parent when coming for a fitting.
Want more information - please call 01438 356887 or visit our page on Facebook